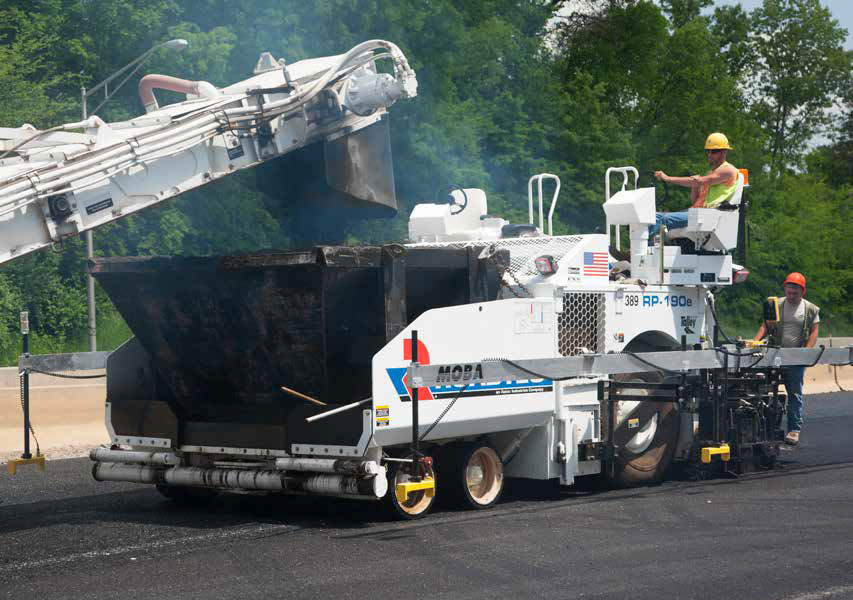 ROADTEC RP-190e/ex Asphalt Paver
The RP-190e is a powerful, rubber-tired paver made for highway work. Seats of the dual operator stations can move hydraulically out beyond the sides of the machine to give the operator an excellent view down the sides of the machine. The four-way adjustable operator seats feature a ride control tension system for ultimate comfort. Noise levels of the Tier 4 Roadtec pavers are among the lowest in the industry thanks to variable speed fans. Roadtec pavers come equipped with standard fume extraction systems for the operator area.

Like all Roadtec pavers, the RP-190e features Roadtec's exclusive antisegregation design of the feed tunnel, the feed tunnel discharge, and the rear augers.
Frame
All Roadtec Asphalt Pavers start with an extremely strong frame completely fabricated, welded and assembled by us. This gives us complete control over the design and quality of the build.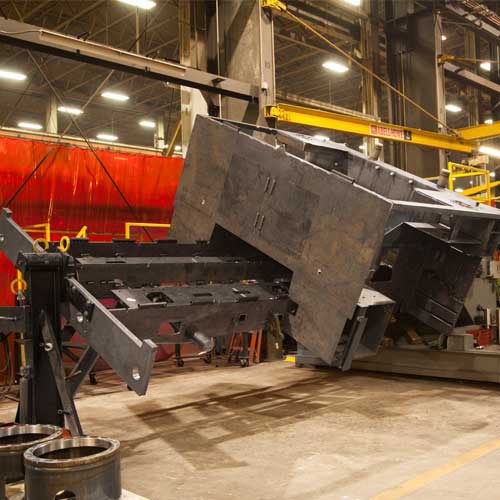 Hydraulic Pumps
All Roadtec Asphalt Pavers use Sauer Danfoss® Series 90 hydraulic pumps for propel and material feed. These large easily serviced pumps allow the entire hydraulic circuit to run extremely cool greatly prolonging the life and lowering the maintenance costs of all components.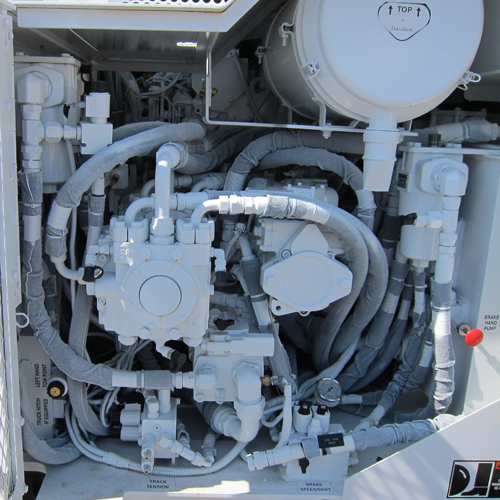 Cooling Package
The cooling package on Roadtec pavers is mounted on the side of the paver where it can get the cleanest and coolest air. The radiators are also rated for higher horsepower engines and the fan is controlled hydraulically. The fan can run at the optimal speed depending on the load, which reduces noise levels emitted by the paver.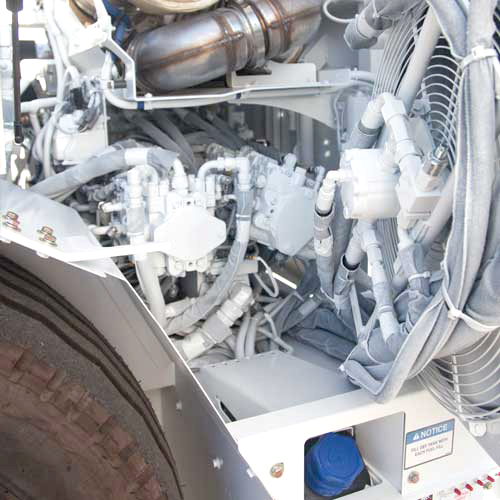 Augers
The auger assembly on Roadtec pavers can be hydraulically raised and lowered. This feature can assist in eliminating segregation in certain mixes and is very helpful during the loading and unloading process as well as constructing "supers". Standard sonic feed sensors control each side of the feed system. Each auger is driven by its own motor and the auger chain case width has been minimized to the smallest amount available to further eliminate centerline segregation.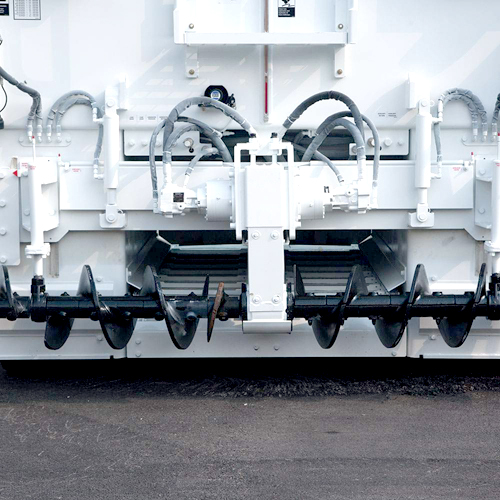 Delta Plate and Close Proximity of Augers to Conveyors
The Delta Plate defines the front wall of the material tunnel, preventing mix from rolling forward under paver, a main cause of centerline segregation. It also removes mix from the conveyors providing better conveyor efficiency.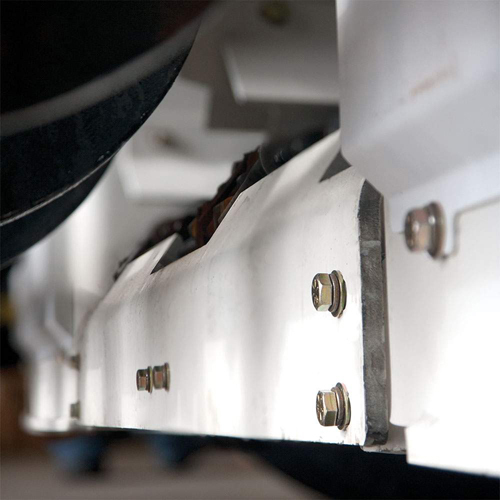 HYDRAULICALLY CONTROLLED SUSPENSION
This feature allows the depth of cut to be selected via push button.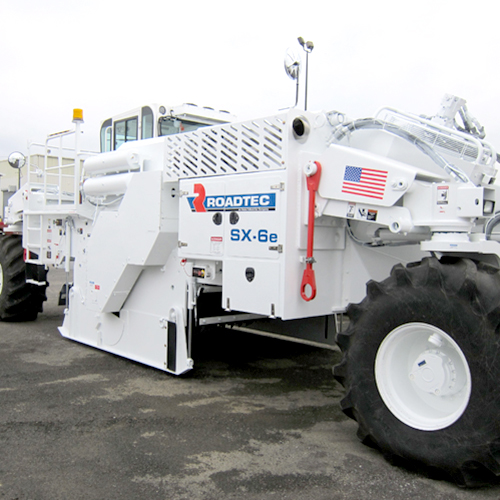 Visibility
The seats and controls mounted to the seat station slide out past the side of the machine for increased visibilty. The entire assembly also hydraulically pivots so the operator can position themselves as to see not only down the side of the machine but also back to the screed and down to the material tunnel.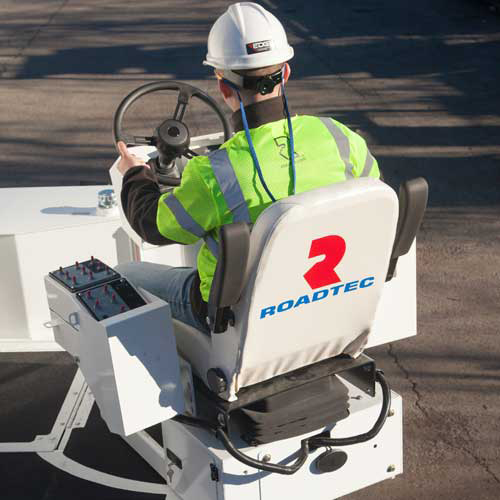 Engine
Engine MFG
Cummins
Model
QSB 6.7
Emissions Standard
RP-190e:Tier 4F
RP-190ex: Tier 3
Max Power
hp (kW)
230 (172) @ 1,900 rpm
Number of Cylinders
6
Electrical System
Volts
24
Weight and Dimensions
Overall length
Feet (m)
30' 10" (9.39)
Shipping width
Feet (m)
9' 4" (2.83)
Shipping height
Feet (m)
11' 6" (3.51)
Inside turning radius
Feet (m)
19' 6" (5.94)
Shipping Weight (w/ 100" Cutter Housing)
lbs (kg)
73,000 (33,112)
Service Capacities
Hydraulic Tank Capacity
Gal (liters)
76 (288)
Fuel Tank Capacity
Gal (liters)
100 (379)
Cooling System
Gal (liters)
9 (34)
DEF
Gal (liters)
5 (18.9)
Drive
Final Drive
2 spd.
Number of Drive Pumps
2
Number of Drive Motors
2
Paving speed
fpm (mpm)
to 284 (86)
Travel speed
mph (kph)
to 12 (19.3)
Rear tire size
18.00 R25
Front tire size
Inches (mm)
14 (356) x 22 (559)
Ground Clearance
Inches (mm)
7" (180)
Steering
Steering Wheel
Controls movement
Hydraulic swing
Suspension
Rubber Tire
Front Bogies
Balanced
Feed System
Hopper width
Feet (m)
10' 3" (3130)
Hopper length
Feet (m)
Hopper / cu. ft. (cu. m)
cu. Ft. (cu. m)
252 (7.1)
Tunnel Width
Inches (mm)
Tunnel Height
Inches (mm)
Feed Control
Sonic and flow gates
Auger Diameter
Inches (mm)
Inches (mm)
Distance between augers and back wall
1.5" (38)
Minimum auger height
2" (51)
Hydraulic Tunnel Extensions
Option