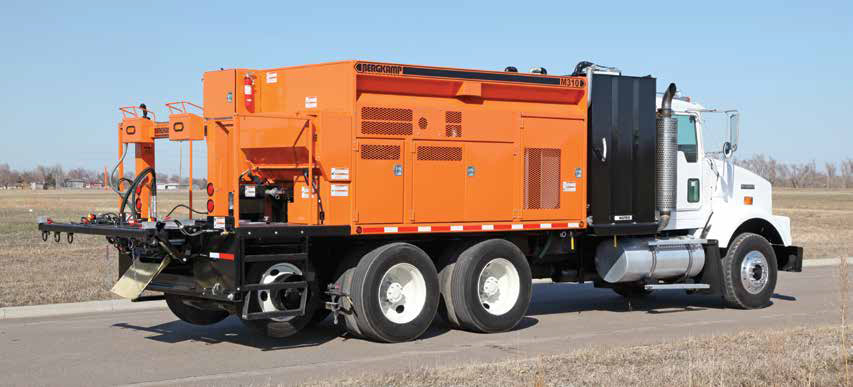 Truck-Mounted Paver
The Bergkamp M310 is one of the most advanced slurry seal/micro surfacing pavers in the industry. In addition to all the high-quality features found on our M2 Series truck-mounted pavers, the M310 offers the EMCAD system. EMCADS – Electronic Mix Control and Diagnostic System uses computer technology to electronically link the emulsion pump, water pump, additive pump, mineral filler, and if needed, the fiber feeder to the aggregate belt. This ensures that the material produced by the M310 always meets the mix design parameter input by the operator. Mixture management is simplified because the computer keeps all materials at the desired Job Mix Formula during production rate changes. No more flooding the mix with water when reducing the paver output.
Additional Information
EMCADS also simplifies and shortens calibration time due to its fixed aggregate gate. The EMCADS walks the operator through the calibration steps, makes all calculations and stores multiple material calibrations in memory.

EMCADS monitors and reports on daily production rates. Using the onboard radar EMCADS provides distance paved and uses operator paving width inputs to calculate actual application rate and area covered. All daily report information can be printed using the onboard printer.

The EMCADS diagnostic features allow for quick field troubleshooting of electronic and hydraulic components, as well as, providing plain language error codes from the Cummings engine.
Other Key Features
EMCAD System provides accurate information on the M310's performance, and includes:
o Current and average material ratios
o Total materials used
o Material rates
o An end-of-day printout of material usage
Inline asphalt emulsion strainer system removes impurities and helps produce a higher quality product
A Tri-Rotor pump makes loading asphalt emulsion faster and easier
Slide-out pugmill improves access and makes cleanup and maintenance easier
Optional Equipment
Stainless steel water and asphalt emulsion tanks
Corrosion-resistant additive system
Water Load Pump
Spare parts packages
Tarp system
Fiber Cutter