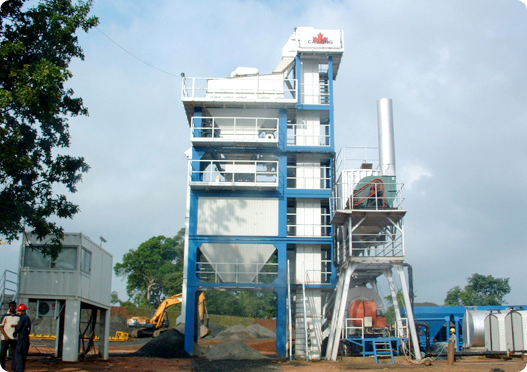 Main Features:
■ Transport by standard containers.
■ Small-type mixing plant, easy to operate and convenient to maintain.
■ Similar structure fits to capacity from 50t/h, 80t/h, 100t/h, to 120t/h.
■ Vibrating screen has the structure of 2 decks 4 segments, which meets to screen 4 kinds of aggregates.
■ Hot mix storage silo is under the mixer. Less space and less energy. Lower fault rate.
Standard Components:
1. Cold aggregate feeding system

1.1 Cold aggregate bin

4pcs

1.2 Collecting belt conveyor

4sets

1.3 Horizontal belt conveyor

1set

1.4 Primary screen

1set

1.5 Inclined belt conveyor

1set

1.6 System assistant functions

1set

2. Drying drum heating system

2.1Drying drum

1set

2.2Main burner (diesel oil or gas or heavy oil)

1set

3. Main tower

3.1 Hot elevator

1set

3.2 Filler elevator

1set

3.3 Vibrating screen

1set

3.4 Hot bin

1set

3.5 Weighing system (aggregate, bitumen, filler)

1pc

3.6 Mixer

1pc

4. Hot mix storage silo (downside, 30t) (option)

1set

5. Dust cleaning system

5.1 Primary dust filter

1set

5.2 Second dust filter (Bag filter or water filter)

1set

5.3 Pipeline system

1set

5.4 Induced fan

1pc

5.5 Chimney

1pc

6. Filler feeding system

6.1 Filler silo

1pc

6.2 Impeller conveyor

1pc

6.3 Screw conveyor

1pc

7. Pneumatic system

1set

8. Control system

8.1 Computer control system

1set

8.2 Monitoring system

1set

8.3 Power distribution cabinet, cables

1set

8.4 Control room (with air conditioner)

1pc

9. Bitumen heating and storage system

9.1 Bitumen tank (40m3) (option)

1pc

9.2 Bitumen storage tank (10t) (underground)

1pc

9.3 Bitumen pump

1pc

9.4 Thermal conducting oil boiler

1set

9.5 Thermal conducting oil pump

1pc

9.6 Small burner

1set

9.7 Heavy oil heating system (option, extra money)
(it is provide for main burner with heavy oil only)

1set

10. Spare parts

1set