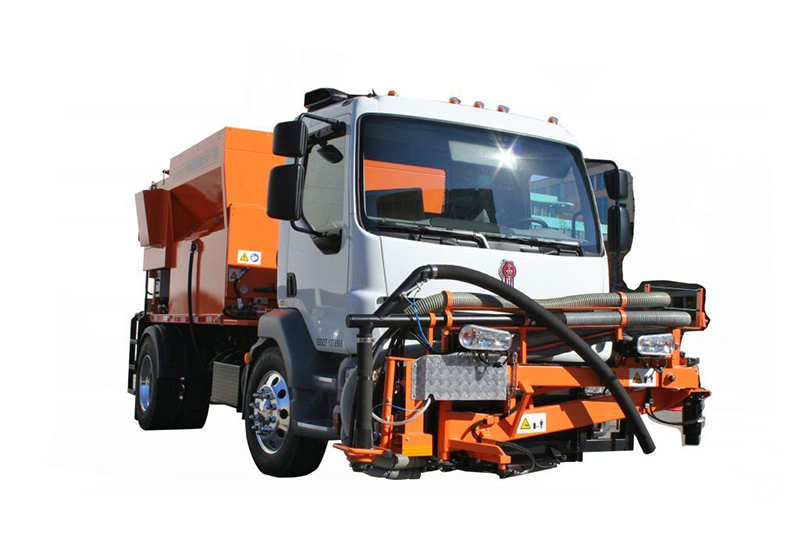 The Bergkamp SP5 Spray Injection Pothole Patcher provides a simple, quick pothole repair using the less invasive spray injection patching process designed to clean out and repair potholes in minutes—returning vehicles to the road sooner while minimizing traffic flow disturbances.

The SP5 employs the Bergkamp InPave® Mobile Technology Pothole Patching Management System to monitor and manage pothole patching performance for government agencies and contractors. InPave Technology provides an easy way to monitor production, performance, and location of each pothole patcher and repair. As potholes are repaired, data is automatically transmitted and easily downloaded.
Key Features
Front-Mounted Working Boom – Two-piece folding boom delivers the longest and broadest working reach of 13' 5" when fully extended, and a rotation angle of 250°.
Dual Aggregates Hopper – An industry exclusive and standard feature, dual chambers carry and distribute two different gradations of aggregate to allow for more effective repair of different-sized potholes.
Operator Controls – Both automatic and manual controls have been developed with the operator in mind to make pothole repair controllable, truly fatigue-free and more efficient.
Asphalt Emulsion Injection Nozzles – Three injectors in the nozzle guarantees homogeneous aggregate coverage and high-quality, durable pothole repairs.
Optional Equipment
LED lights
Upgraded arrow boards
Traffic cone holders
Shovel and asphalt lute holder